New learning styles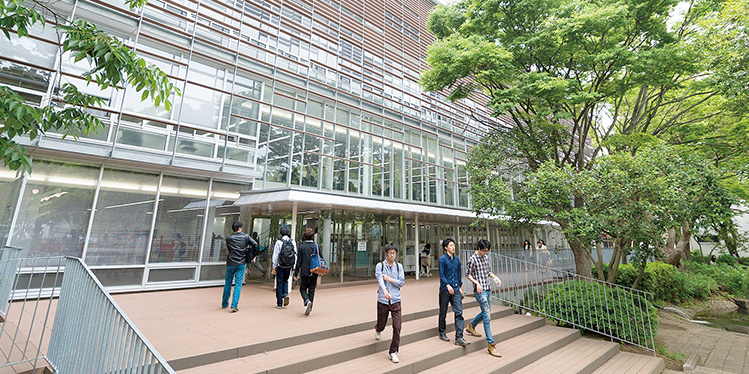 Academic Link Center (University Library)
Offering opportunities for a diversified scope of learning with "place," "content" and "support"
Academic Link Center was opened in March 2012 to promote active thinking skills.
A new learning environment was established with highly advanced library function.
Check below for the overview of "academic link" proposed by Chiba University and a new learning environment that the attached library offers.
Three factors promoting active thinking skills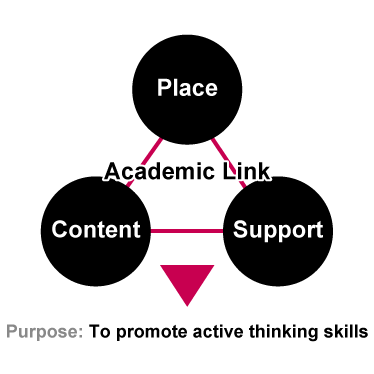 Cultivation of students equipped with "basic ability for lifetime learning" and "ability for utilizing knowledge"
Active Learning Space
The Center offers space for group or private study or sharings study results while students utilize various materials, information and communication technology as well as human support (faculty, library staff and students).
Contents Lab
The center offers "Class Materials Navi" which introduces useful books and websites for previewing or reviewing classes or researching subjects in depth, as well as computerized documents, learning aids, and recorded class sessions. These contents are provided via the learning management system.
Teaching Hub
In addition to supporting the operation of the learning management system, the center conducts faculty development (FD) to help faculty and staff to use computers and technology in their instruction. The center also has student assistants (SA) who provide support in the active learning space.
Library Buildings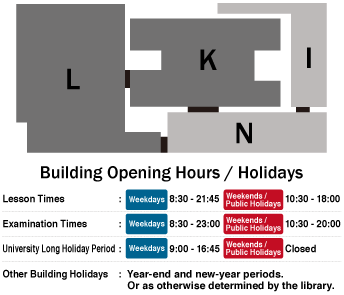 Between 8:30 and 9:00, the Library is open to those with a library registration ID for browsing books on the open display, checking out or returning books with the automatic check-out/return system and using the education terminals.

Learning Building ~ Quiet Reading Library ~
Learning space for quietly reading books or mulling things over. The building is designed to thoroughly preserve the traditional library style. Devices with keyboard sound cannot be used.

Investigation Building ~ Researching / Sharing Library~ ~
Equipped with seminar rooms newly designed for active learning, as well as a materials studio for recording class sessions as a base for R & D and materials production. Academic Link Center is also set up for R & D of "academic links".

Networking Building ~ Communicating Library ~
Space designed mainly for group learning, where silence is not obligatory. Tables and chairs can be rearranged according to needs. They can form a large table or separate into small groups by moving them depending on the needs. Whiteboards are available, as well as iPads and PCs for rental.

Knowledge Building ~ Knowledge Stored Library ~
Building designed as a traditional book store room. The facility includes a precious document room, a microfilm room, electrically operated bookshelves, and so on.
Approach for Academic Link
Concept
Academic Link is a new concept of education and learning set up jointly by the University Library, Institute of Media and Information Technology and Center for General Education of Chiba University. We seek to equip students with lifelong learning skills and the ability to apply theory to practice.
Approach for reality
As an approach to realize this concept, the environment for learning and the system for offering contents are integrated and equipped with the three functions of "place," "content" and "support." (See the figure above)
"Place" offers a learning space created with a higher degree of freedom than a conventional library where students just study silently and alone.
"Content" offers various forms of contents available in the formats (paper, electronic media) that the students need and want for their study.
"Support" offers an established support system whereby a variety of human resources ranging from faculty, to librarians, to students provide study support.
These new elements of Academic Link are featured in Buildings N and I of the Attached Library for the students to be stimulated to engage their intellectual curiosity in their study on a daily basis.
Contribution to Japan's higher education
Academic Link offers a place for students to study freely, and will continue to work towards improving their ability to learn autonomously. We receive visits from many educational institutions and hope to develop our service further in order to contribute to higher education in Japan as a whole.
Contents of Academic Link Center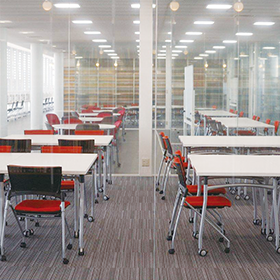 Glass-lined learning space created in harmony with the concept of Academic Link.
Space to view and to be viewed, "Group Study Room"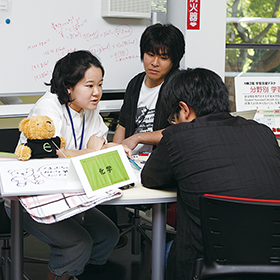 Graduate students of Chiba University provide support as Academic Link Student Assistants (ALSA).
Field-specific learning consultation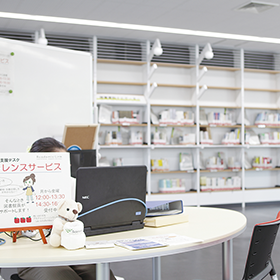 The librarians give assistance on how to find documents or materials and how to use the database system.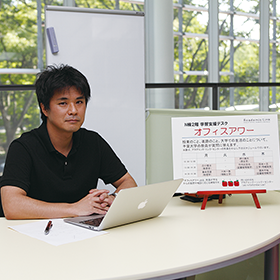 The Chiba University faculty members serve as consultants regarding the study and life in the university in general.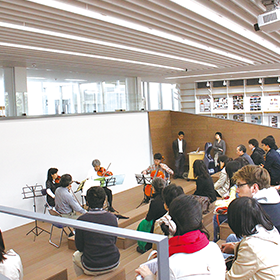 Seminars or events are held on every Tuesday and Friday from 12:10 to 12:40 at the presentation space located right next to the Library entrance.
1210 Akarin (academic link) hour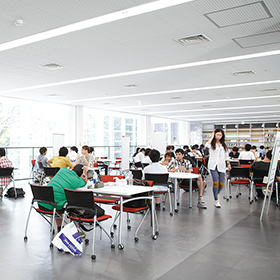 Learning space where you can study while freely moving the desks and chairs.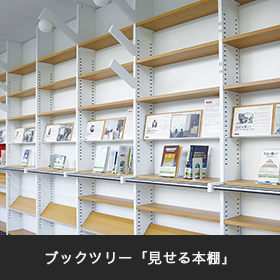 The Book Tree is a "Displaying Bookshelf" to demonstrate the diversity and possibility of the Library. The books are arranged under a theme beyond the classifications. The Book Tree in the eastern section of the 3rd floor displays documents concerning the seminar presented in "1210 Akarin (academic link) Hour."
Book tree "Displaying Bookshelf"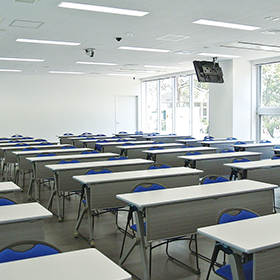 [1F] Classroom equipped with a recording system to utilize class lectures as "learning resources"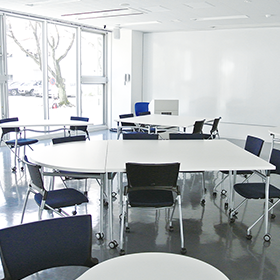 [1F] Classroom for demonstration or workshop-based lessons. The front and back walls are provided with "whiteboards extending over the entire wall."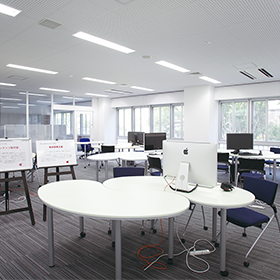 [2F] The lectures recorded in the content studio "Hikari" are edited here. The produced contents can be used for review and other purposes.