Signing of the MOU for Academic Exchange and Cooperation with the University of Baghdad
2017.02.23
Professor Alaa Abdulhussain Alkashwan, President of the University of Baghdad, Iraq, visited Chiba University on February 13, 2017 for the conclusion of the Memorandum of Understanding for academic exchange and cooperation.
This MOU is the first one between an Iraqi university and a Japanese university.
Mr. Rahman Loan Muhsin, Charge d'Affaires of the Republic of Iraq to Japan, attended the signing ceremony.
Professor Keiko Sakai, Dean of Faculty of Law, Politics and Economics, has been conducting collaborative research for a long time with the College of Arts, University of Baghdad. After the Iraq-Japan Academic workshop was held at Chiba University in September 2016, we have been searching for the possibility to establish a partnership between the two universities.
We believe this MOU will develop our mutual relationship and promote further cooperation between our two universities, and hope this collaboration will deepen the friendship between Iraq and Japan.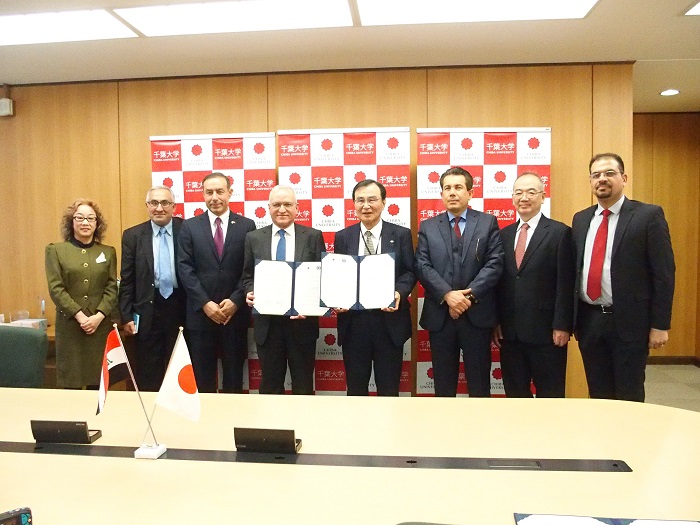 From Left:
Prof. Keiko Sakai, Dean of Faculty of Law, Politics and Economics
Prof. Mahmoud al-Qaysi, College of Arts
Mr. Rahman Loan Muhsin, Charge d'Affaires of the Republic of Iraq to Japan
Prof. Alaa Abdulhussain Alkashwan, President of the University of Baghdad
Dr. Tokuhisa, President of Chiba University
Prof. Salah Alhassan, Dean of the College of Arts
Prof. Nishida, Vice President
Assistant Professor Dr.Iyad Khadim Zgair, Director of Foreign Affairs