Cultivating specialists who provide support to others for surviving their life.
Graduate School of Nursing
Nursing Science Laboratory
Everyone has to face the end of his life someday.
At that time, how should a nurse deal with that patient?
Nursing Science Laboratory carries out the cultivation of nurses who can respond to the growing needs of patients as our society is increasing aging.
We interviewed Professor Tomoko Majima.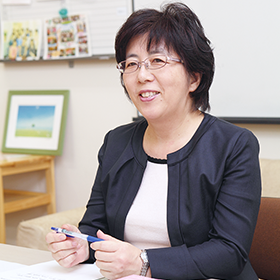 Tomoko Majima
Professor of Graduate School of Nursing, Chiba University.
Graduated from School of Nursing of Chiba University.
After working as a nurse at the Japan Baptist Hospital, graduated from the master's course of Graduate School of Nursing, Chiba University.
Taught at the Japanese Red Cross College of Nursing, finished the doctoral course of Graduate School of Nursing, Chiba University, served as assistant professor at the Tokyo Women's Medical University, and then began working at Chiba University.
Engages in research on terminal care and development of specialized nurses.

What was the course of events that moved you to take up a study on terminal care for cancer and other patients?
As I recall, it was when my uncle died of cancer in the second year of my high school. As his condition deteriorated, he became bed-ridden, and eventually unable to speak at all.
I wasn't that close to my uncle, but I later thought to myself I could have done something. That event is a major reason why I made up my mind to pursue nursing.
It was the influence of my experiencing the uncle's death that I began to work as a nurse at the Japan Baptist Hospital in Kyoto immediately after graduating from the university.
One of the reasons I chose the Japan Baptist Hospital was that there were many patients who were fighting cancer.
Another reason was that it was a Christian hospital with an environment wherein we had a lot of opportunities to talk with the patients about death and how to spend the rest of their life.
My experience there of talking with many cancer patients face to face has a large impact on my research activity even today.

Specifically, in what ways is your experience being utilized now?
Currently, I am working on the psychological condition of terminal patients including cancer, the care provided by their families as well as the cultivation of specialized nurses who can perform their skills in such medical scenes.
In terminal care, what is important is how well we deal with our patients face to face as I experienced in the Baptist Hospital. I am instructing my post-graduate students to identify what the patients are thinking and how they want to spend their life, by having communication with them.
Today's cancer patients have longer life due to the advancement of medical technology, meaning that they fight their disease for a longer time. So it is rather a chronic disease than cancer that they are dealing with. Consequently, we have to think of how to support the patients as well as their families during that period.
Nursing does not get directly involved in treatment, but nurses need to focus on how the patients desire to live their life.
I think it is greatly significant for my research to verbalize and visualize the psychological condition of patients and their families in the final phase of the life as well as the kind of care that is necessary for these ones.

Do you have any future plans that you would like to take part in?
Chiba University is now participating in a project called, "Cancer Professional Training Promotion Plan" assisted by the Ministry of Education, Culture, Sports, Science and Technology.
This is a continuation of Chiba University's "Cancer Professional Training Plan" which was launched in 2008. The new project is promoted jointly by 8 universities including Chiba University for fostering medical staff specializing in cancer having an international point of view.
It is our urgent mission to cultivate such internationally competitive, specialized staff for cancer care as the field of cancer treatment is rapidly being globalized today.
I am also making programs for e-learning and conducting a survey on the needs of advanced nursing education in Asia. But I would like young people to take over such work in the future where I provide support to the young staff.

Last of all, please give a message to the students.
I have an impression that the students of Chiba University are serious and quiet both in a positive and negative sense.
They listen to the lectures politely and complete assignments well, but they are not so active in participating in discussions or in producing unconventional or innovative ideas. However, they have energy to take action and enthusiasm to drive themselves.
Once I was serving as a chief of the disabled students assistance office, and I still remember the volunteer students were working very hard to give assistance. I think many of them look quiet but have zealous passion inside them.
They may be able to use the enthusiasm and dynamic power they have if they communicate more with other people and know what they can do or what they are required to do.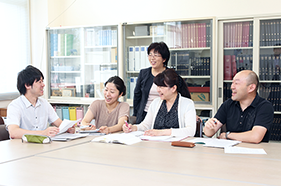 In her seminars, study results are presented and discussions are held. It is an urgent task to cultivate specialized nurses equipped with both theoretical knowledge and practical skills.