International Center of Excellence in the Mucosal Immunology and Innovative Allergy Therapeutics at Chiba University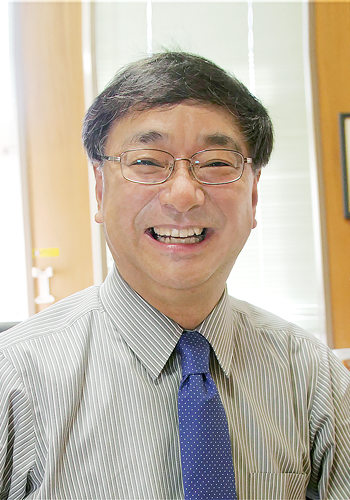 Toshinori Nakayama
Toshinori Nakayama is Professor of the Department of Immunology, Graduate School of Medicine, Chiba University.
Professor Nakayama graduated from the School of Medicine, Yamaguchi University and then received his PhD from the Graduate School of Medicine, The University of Tokyo. He joined Chiba University in 2001 and has been in the current position since 2004. He was appointed vice president of Chiba University and Director of Future Medicine Education and Research Organization in July 2014, and Dean of Graduate School of Medicine and Faculty of Medicine in April 2015. His primary research interest is in immune memory. Professor Nakayama's research team proposed the theory that allergies and autoimmune diseases develop when disease-causing (pathogenic) cells are induced in memory helper T cells. These refractory chronic diseases will be cured through the elimination of the pathogenic T (Tpath1,2,3) cells.

Development of "Preventive Vaccine"
Our project aims to create a new academic field, "Mucosal Immunology and Allergy Therapeutics," where we conduct research and development of new therapies and medicines for infectious diseases, allergies, and cancers based on the mucosal immunological knowledge and techniques. Existing injectable vaccines are able to prevent serious conditions, but are not effective enough to defend against infection. Our project has the potential to generate so called Next-generation Vaccine, which is "Preventive Vaccine."

Unprecedentedly unique research system
By integrating with different academic fields, we build a basic research framework of SEEDS creation. We also aim to improve a clinical research system to translate our basic research findings to new treatment by strengthening industry-university cooperation. The research system that we are creating is unprecedented in that it focuses on the immune system in the mucosa (mucosal immunology) to achieve the following goals: 1) to develop novel treatments for various diseases; 2) to promote basic research that produces new SEEDs; 3) to apply the findings from basic research to clinical research; and 4) to cultivate global human resources. It is also a new trial for Chiba University, which has a long tradition of excellence in immunology and allergy therapeutics, to closely collaborate with world-leading research institutes aiming at strategic development of new treatments based on mucosal immunology.

Message to students and young researchers
Our message to students and young researchers: "If you wish to commit yourself to global Therapeutics Research, join us in the project of a new preventative and therapeutic strategy!"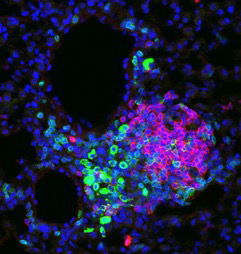 In a lung with chronic inflammation, accumulation of lymphocytes around airways and blood vessels (induced bronchial associated lymphoid tissue) is observed. T cells (green), B cells (red), cell nucleus (blue)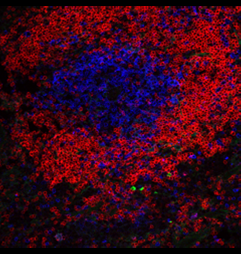 In a spleen of a naive mouse, T cells (blue) and B cells (red) are localized separately: T cell areas and follicle, respectively.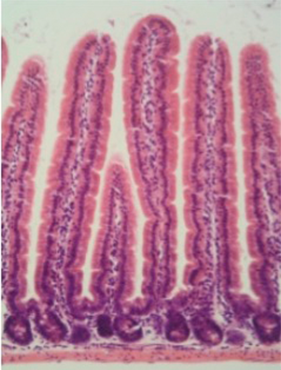 Intestinal tract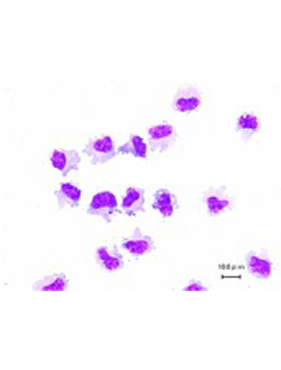 Intestinal dendritic cells