Chiba University launched a new academic resource collection named "Chiba University Academic Resource Collections (c-arc) " which makes contents published and provided by Chiba University Libraries widely available on the web. This website is a new infrastructure to realize "Digital Scholarship," which promotes using digital content to research, education, and learning materials. Not only students and researchers at Chiba University, but anyone can use this open resource.
Now "c-arc" offers Rare eastern medicine book collection, Horticulture book collection on Edo-Meiji era, Machino family documents and Fungi and Actinomycetes gallery.
Rare eastern medicine book collection
This collection mainly consists of Japanese and Chinese medical books, as well as books on herbal medicine and Western medicine, published and transcripted in the period from the Edo period (1603-1868) to the early Meiji era (1868-1912). The collection contains valuable documents such as "Revised Kaitai Shinsho" written by Gentaku Otsuki and "Zoshi, " Japan's first anatomical book. There are 197 items in this collection.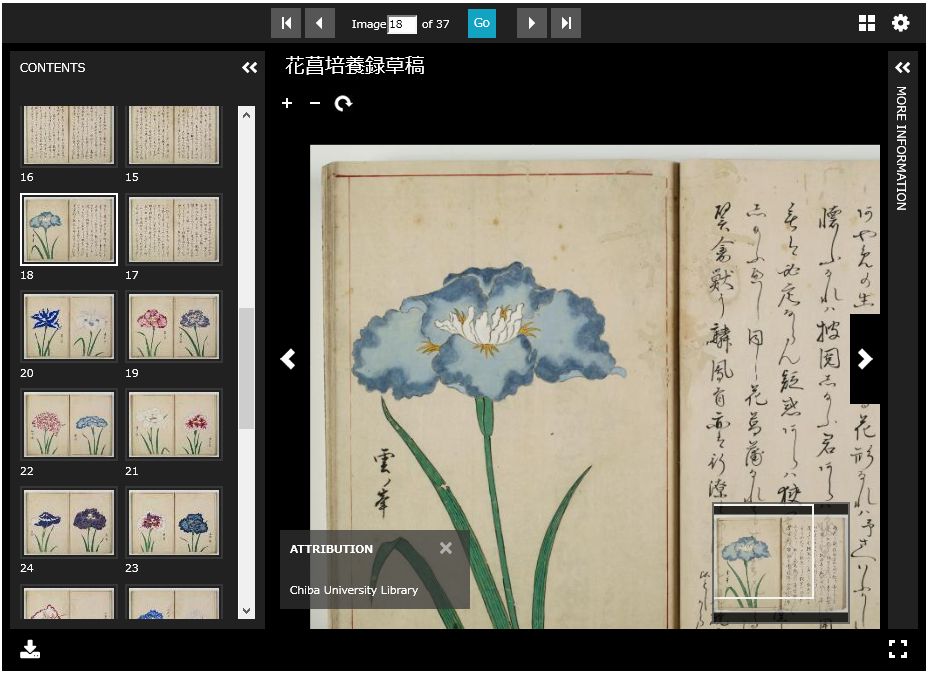 Horticulture book collection on Edo-Meiji era
This is a collection of horticulture books important for tracking the development and transition of Japanese horticulture since the Edo period (1603-1868). The collection includes beautiful colored pictorial books depicting various kinds of plants, such as morning glory, whose cultivars were popular in the Edo period, as well as iris and maple. The collection also includes a draft of "Kasho-Baiyoroku (draft) " written by Sadatomo Matsudaira, who produced about 300 varieties of improved iris strains. There are 18 items in this collection.
Archive of the family Machino
This collection belonged to the Machino family, who served for generations as village headman of Kotehashi Village, Chiba District from the Edo period to the Meiji Era (the 1650s to the 1880s). The content ranges widely from annual tribute taxes to other administrative records. There are about 700 items in this collection.
The Machino family contributed the collection to Chiba University in 1957, and the National Museum of Japanese history had digitized materials held at Chiba University and published them on the web.
Fungi and Actinomycetes Gallery
The gallery shows images of pathogenic fungi, yeasts, mushrooms, and pathogenic actinomycetes. The Medical Mycology Research Center of Chiba University created the gallery with assistance from the National BioResource Project (NBRP). There are about 224 items in this collection.
In the future, the collection of designs by graduates from the Department of Design, Faculty of Engineering, Chiba Univesity and Haginiwa Herbarium will be added to this website.
Contact
Auzsa Tokuno
Public Relations Office, Chiba University
koho-hp(at)office.chiba-u.jp
+81 (0)43 290 2018