Academic Symposium Celebrates 400th Anniversary of Japan-Mexico Relations: Seeking the Way of Living in Harmony with the Nature (Oct. 2-3)
2009.08.18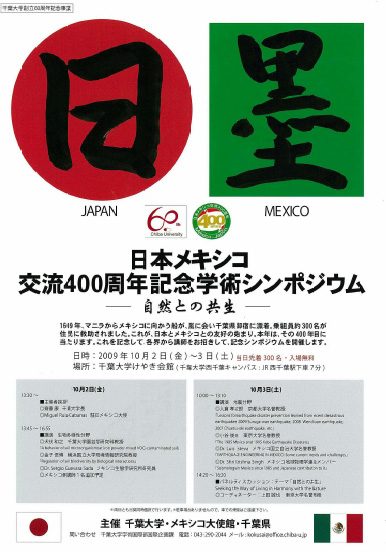 Schedule:
October 2 (Fri.), 2009, 1:30 to 4:55 p.m.;
October 3 (Sat.), 10:00 a.m. to 4:20 p.m.
Venue:
Keyaki Kaikan (university hall), Chiba University
Free admission to the first 300 attendees to arrive on the day of the event
(The symposium will be held in English and include simultaneous interpretation in Japanese and English.)
Sponsors: Chiba University, Embassy of Mexico, Chiba Prefecture
Contact: Department of Science and International Affairs, International Affairs Division, Chiba University, Tel: 043-290-2044, e-mail: kokusai@office.chiba-u.jp
October 2
1:30 p.m. Remarks by the Organizers
Yasushi Saito (President, Chiba University)
Miguel Ruiz-Cabanas (Mexican ambassador to Japan)
1:45 to 4:55 p.m. Lectures on Biodiversity
October 3
10:00 a.m. to 1:10 p.m. Lectures on Earthquakes
Kojiro Irikura (Professor Emeritus, Kyoto University)
Lessons for earthquake disaster prevention learned from recent disastrous earthquakes,

2009 Suruga-wan earthquake, 2008 Wenchuan earthquake, 2007 Chuetsu-oki earthquake, etc

Dr. Arturo Iglesia (Associate Professor, National Autonomous University of Mexico)
Seismology in Mexico since 1985 and Japanese contribution to it
Dr. Luis Esteva (Professor Emeritus, National Autonomous University of Mexico)
EARTHQUAKE ENGINEERING IN MEXICO -Some current trends and challenges-
Shunsuke Otani (Professor Emeritus, University of Tokyo) 
The 1985 Mexico and 1995 Kobe Earthquake Disasters
2:20 to 4:20 p.m. Panel Discussion
Theme: Seeking the Way of Living in Harmony with the Nature
Coordinator: Seiya Uyeda (Professor Emeritus, University of Tokyo)


Download Adobe Reader

Adobe Reader is necessary to view PDF documents.
A new browser window will be opened for downloading Adobe Reader.